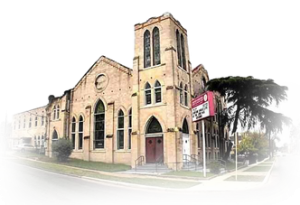 The Church Of God In Christ (COGIC) ministry presently known as Praise Cathedral was birthed through the work of Elder J. H. Galloway.  Today, this congregation of loving, sharing, and caring believers enjoys the dynamic visionary leadership of Bishop Samuel Edward (S. E.) Iglehart. 
In 1931, Elder Galloway held a 90-day revival in the area of San Antonio, now known as the Wheatley Courts. During this revival, many souls were saved.  Elder Galloway formed these new saints into a church congregation. Then he leased property on Arthur Street where they erected the church's first building.  These saints adopted the name Galloway Tabernacle Church of God in Christ. 
​
Most of the saints were young and needed teaching concerning Holiness and responsible living.  To meet this need, the Pastors of the Denver Heights and West End COGIC sent Brothers Robert Allen Grant and Shelley Price respectively, to serve as leaders and temporary members of the newly formed church. Shortly thereafter, these men and their families became permanent members of the church.  They were among the first elected church officers.  Other officers were Mother Ella Davis, church mother; Sister Nettie Viola Rhylander, Secretary; and Sister Annie B. Boyd, Treasurer.   Brothers Grant and Shelley remained with Galloway Tabernacle until placed as pastors for other congregations
After pastoring Galloway Tabernacle for about two years, Elder Galloway moved to Houston.  He would later become the COGIC Bishop of Texas. He left Deacon Grant and Mother Davis in charge until a pastor could be appointed.  Over the next four years, the church had several pastors.  In order of succession, they were Elder Hightower, Elder Joe Quinn, Elder Jessy S. Starks, and Elder Eugene H. Hamilton. Though neither remained very long, each brought growth to the church. 
In the fall of 1936, Elder E. D. Childress was appointed to Galloway Tabernacle as their 6th pastor. Realizing the need for a better building, as the present one was not very strong; he found and encouraged the church to purchase a house and lot on Arthur Street, which they renovated. The church was then renamed Blue Bonnet COGIC. Two years later, they remodeled and enlarged this building. 
In 1946, as the church was rapidly growing, the Lord blessed them to purchase a building at 107 South Pine.  It was larger, better, and in the center of town.  After moving, the church continued to grow and Elder Childress was elevated in leadership to Superintendent of the San Antonio District.  In 1954, tragedy struck. The building burned badly and the church had to worship with sister congregations until completing repairs. The Lord blessed and soon they were able to return to Blue Bonnet. There was another fire in 1959 damaging the west side of the building. However, despite these and other minor setbacks, under his care, Blue Bonnet became a leading church in San Antonio and the state of Texas.  Superintendent Childress pastored Blue Bonnet for twenty-six years. The Lord called him home on March 14, 1962. After Superintendent Childress' death, the church asked Bishop Thaddaeus D. (T. D.) Iglehart to serve as their pastor.  
In July of 1962, Bishop T. D. Iglehart came to Blue Bonnet at 107 S. Pine Street as their 7th pastor.  During his tenure as pastor, church membership continued to grow.  To accommodate this growth of members and ministries they purchased property adjacent to the Blue Bonnet Church, a Hammond organ, new pulpit furniture and a twenty-nine-passenger diesel-engine bus.  Bus mobility facilitated expanding their influence throughout the city and state. 
God's spirit coupled with Bishop T. D. Iglehart's keen business sense guided the membership as they purchased the edifice at 901 North Pine Street.  In conjunction with the move to North Pine Street, the congregation renamed itself Childress Memorial.  God continued to add souls to the church.  Moreover, Bishop T. D. Iglehart made it his personal mission to ensure their spiritual and physical health.  He loved to see the people blessed and praising the Lord.  On August 27, 1998 after serving Blue Bonnet and Childress for 36 years, the Lord called him home.
​
Bishop Samuel E. (S. E.) Iglehart, son of Bishop T. D. Iglehart, became the 8th pastor of Childress Memorial on September 27, 1997.  Almost immediately, he framed the focus for the church's ministry by proclaiming, "Childress is a Loving, Sharing, Caring Church" and "We Must Win the Lost at Any Cost."  In response, the leadership developed a youth ministry renowned throughout the country and in various parts of the world for music, fine arts, community service and scholastic achievement in individual and team competitions.  In addition, the church opened its doors in service to the entire community.  They began distributing holiday food baskets, serving free breakfast every Sunday morning to anyone that was hungry, providing education through seminars, health fairs and conferences, and hosting the neighborhood association and other community-oriented meetings.  This, coupled with the meal-on-wheels and Angle Food programs made the name Childress synonymous with selfless service.   
All of that changed just before midnight February 1, 2013 when a fire, which could not be quenched until well into the afternoon the next day destroyed the worship center at 901 North Pine Street.  Through tears of grief and sadness, even though he was undergoing personal medical challenges Bishop Iglehart rallied the congregation.  This time they responded with the building is destroyed but the church remains, we are stronger together and united to rebuild, to which the Pastor responded with there is no better time to give God a praise than right now.  
Immediately God moved the community to respond in loving support.  Led by (then) City Councilwoman Ivy Taylor and City Manager Sheryl Scully the City of San Antonio's (CoSA) response included use of the Henry B. Gonzales convention center for Sunday School and Sunday worship on February 3rd, and immeasurable assistance from City staff in the rebuilding process.  Love from the faith community which sprung up on Saturday February 2nd began to show up just before service on February 3rd.  First, Pastor Robert Emmit presented Bishop Iglehart a One-Hundred-Thousand dollar gift from the Community Bible Church.  Behind him, Pastor Jonathan Ellis from the Conquers Assembly presented a special donation.  A few days later, Pastor Trey Little representing our brethren of First Presbyterian Church presented Childress with a One-Hundred-Thousand dollar gift.  
Another outpour of love came on March 1st when Pastors David and Claudette Copeland of New Creation Christian Fellowship hosted a community benefit for the church.  The benefit leaders were Reverend Herman Price Jr., Chair, Community of Churches for Social Action (CCSA) and Elder Geoffrey Stirrup, Superintendent, San Antonio District, Texas Southwest Jurisdiction, COGIC.  It included special presentations and donations from Bishop Charles E. Blake, Presiding Bishop, COGIC, the faith community from across Texas including Texas Southwest and other COGIC Jurisdictions, the Baptist Ministers' Union, CCSA, and community organizations including the H.E.B. Grocery Company.  This two-hour event yielded more than One-Hundred-Thousand dollars for the Childress Memorial family.  
Sunday morning worship April 28 ended on an especially high note. Approximately 25 members of the Iron Order Motorcycle Club arrived on their Harley Davidsons, adorned in their club colors of silver and black.  They presented the congregation a check for $10,000.00 and a hearty God bless you. 
Since the fire, the Childress Memorial family worshiped in a number of temporary locations.  The longest periods were at the now demolished Live Oak Civic Center and then at 500 Schertz Parkway, Schertz TX.  Snapshots of how far and fast God brought us are as follows:
May 2013 – Decided to Relocate; June – Began negotiations to purchase Collier Estate; August– Entire congregation began church design from mission essential task list; September  – Contracted with PowersGoolsby Architects; December– Purchased Collier Estate; December – Opened Request for Bids for Construction; February 6, 2014 – Selected Everyday Construction Company as our builder; February 7 – Plat recorded by Bexar County Clerk; February 11– Selected TexStar Bank for funding; February 13 – Applied for Building Permit from CoSA; April 23 – Received Building Permit from CoSA; May 3 – Held Ground Breaking and Dedication Service; August 10, 2014 – Congregation voted for name change from Childress Memorial to Praise Cathedral; February 29, 2016 – The congregation moved into our new complex at 5895 Binz Engleman Rd.; April 15, 2016 – The church celebrated its grand opening during the Texas Southwest Jurisdiction's Minister and Workers' Conference; July 29, 2016 –  His Eminence, the Most Reverend Charles Edward Blake, Presiding Bishop of the Church Of God In Christ dedicated the complex during the Texas Southwest Jurisdiction's Convocation. 
​​
The Pastor and congregation assure you we praise God for all He has challenged us to endure, and count it all joy. The old buildings are gone, but the church remains. If you know Jesus through the pardon of your sins, have the ability and desire to work, come join Praise Cathedral in serving others.  If you do not know Jesus, come so Praise Cathedral can serve you. We Are Stronger Together.